Short Fun Stuff (Lists, Etc.)
As a journalist, well, more as a person, Peter Mucha has found it tough to resist fun or funny ideas. He also gravitated toward alternate ways of telling stories, such as lists, charts, quizzes, and photo galleries. Although he got to be in the press pool for presidential candidate John McCain (for a day) and frequently wrote about science, he chased wild hogs in South Jersey, wrote about a sports-predicting camel, and explained what conked a cowboy off his horse in a GEICO commercial.
When Pluto was threatened with loss of its status as a planet, Mucha asked Pluto the Disney dog for reaction.
When the 76ers proposed three dopey mascot ideas, Mucha's list of online suggestions (including Billy Penguin, Flagrant Fowl and Crocky, a crocodile with boxing gloves a la Rocky) inspired a Daily News cover story.
No wonder he jokes that his proudest accomplishment was having a Page One story that didn't jump — about a Happy Face crater on Mars.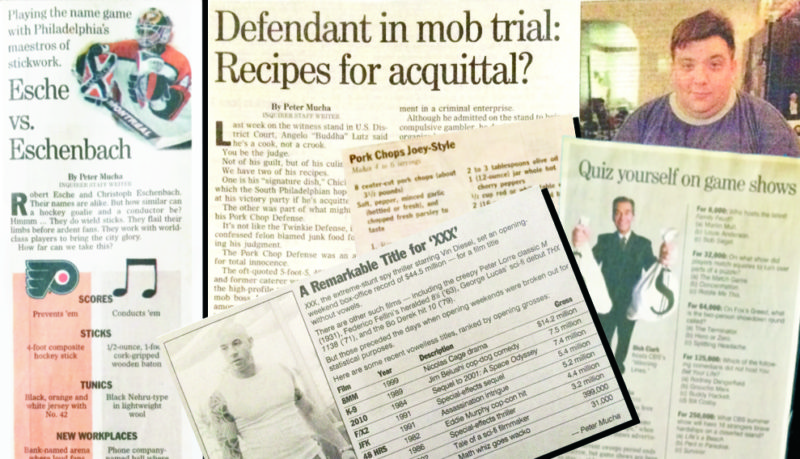 Recipes from a mob trial. A timeline/narrative of a Philadelphia version of Fox's 24. A chart comparing a Philadelphia Orchestera's conductor to a Flyers goalie. A list of the top-grossing vowelless movie titles.
Zany meets brainy … or verges on insany.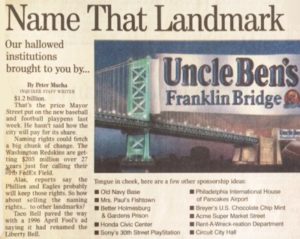 What if governments raised money from selling naming rights? Philadelphia could have the Uncle Ben's Franklin Bridge, the Honda Civic Center, and the Stayfree Library. Readers followed with enough great suggestions to make a fun Part 2.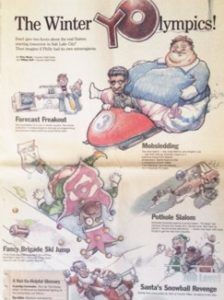 What if Philly held its own Yo-Lympics? You'd have events like the Mummers Ski Jump, Pothole Slaloming and Santas Throwing Snowballs. (Illustrations by William Neff.)
Online, even more alternative forms are possible, of course.
Like Yoda getting beaten by a beehive in an animation for "Light Sabers Are Lame" at Mucha's ThinkableOrNot.com. (Refresh page to restart the gif.)