Peter Mucha drew a lot of cartoons during and after college, but it never quite took off as a career path. Below you'll find a sampling of those efforts.
Interestingly, his daughter, Corinne Mucha, caught the bug at RISD and has gone on to win acclaim and awards. View her comics and other illustrations at maidenhousefly.com. Her latest graphic novel, Get Over It, tells about recovering from a failed relationship.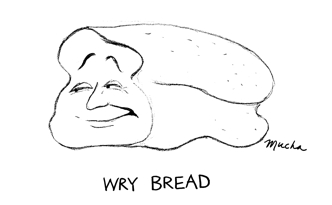 Wry Bread was the name of Peter Mucha's college comic strip.