Peter Mucha's business card says he's "a person of interests."
Not that he's a suspicious character. He's just, well, hard to define. He made his living writing and editing (25 years with the Philadelphia Inquirer and Philly.com), but has loved to draw ever since third grade, when he created and sold tiny comic books about a rabbit. He had a regular panel cartoon, Wry Bread, i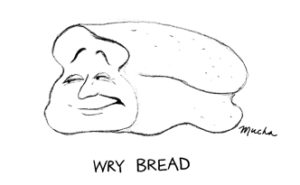 n the college newspaper at Rutgers-Camden. After getting an early PC, a Vendex Headstart, he began using computer graphics to design games.
Is it because of the competing demands of work, family and artistic fun that, frankly, he compiled a huge inventory of "almost" finished projects, including a long kids' fantasy novel, without a big commercial hit? Lame excuse. The truth is he's one of those "inventor types" that Mark Cuban rails against on ABC's Shark Tank.  Some people find more joy in the next creative project than cashing in.
StealMyIdeasPlease.com, a blog Mucha started as a hobby, would give the Dallas Mavericks owner nightmares.
Just in 2015 and 2016, Mucha nearly finished more than a half-dozen games; started another novel, illustrated a children's picture book;  and published a new primary website, ThinkableOrNot.com,
The hope is to eclipse the minor/modest successes so far: HearSay, a puzzle that ran in the Philadelphia Daily News for five years; a card game sold in Europe; and three book-editing projects, Kids Have All the Answers (a collection of columns for children) , How to Break 100 (golf advice from his father, Steve Mucha), and Advice From a 90-Year-Old Man  (also by Steve Mucha).
The picture book is front-burner, along with several games. And maybe a few puzzles, if he can find a partner who writes apps.
Contact Peter Mucha at  psmucha2 at gmail.